Whether it's your first time here or 10th time, we would love to get to know you more. Take the first step and fill out a connect card online!
We are always in need of more servants here at Reach Church with so many opportunities and options to serve. Take a look at the link below to let us know where you are able to help out.
FATHER'S DAY - BABY DEDICATION
We are having baby dedications this Father's Day, June 20th. We do not do infant baptisms, however we want to pray and come along the families and build up children and help disciple them.
YTH
Open to students in middle and high school, our youth group offers a place to make friends, learn, and have fun, all while growing in their relationship with God. We meet on Monday nights from 6:30pm-8:00pm at the church!
YOUNG ADULTS
Our Young Adult group is the perfect place to find like-minded, fun, and caring people. We meet on Tuesday's @6:00pm at REACH CHURCH for food, Bible study, and worship! Let us know if you need the address.
PRAYER
We are so excited to gather together on Wednesdays for prayer again. Prayer is our most powerful weapon and we are anticipating Jesus to continue to do an amazing work. Join us at Reach at 7pm.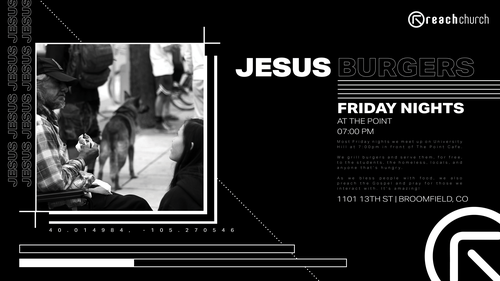 JESUS BURGERS
Join us on Friday at 7pm as we gather on the hill in Boulder at our coffee shop, The Point Cafe, to grill, serve burgers, and pray over the homeless community, locals, and students in the name of Jesus!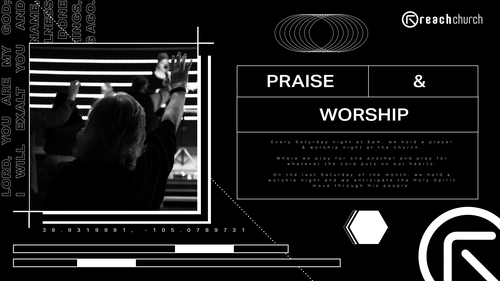 PRAYER & WORSHIP
Every Saturday at 6pm we hold a night of prayer and worship at the church. We pray for one another, the service on Sunday, and whatever the Lord puts on our hearts.
DISCIPLESHIP
The men and women gather at the church from 3-4pm for a time of focused discipleship. The gals are going through 1st Peter and the fellas are going through a School of Ministry curriculum.
SPOKEN - LIVE WORSHIP NIGHT
Matt Baird from the band SPOKEN will be playing and having a worship night on Wednesday, June 23rd, at our coffee shop, the Point Cafe in Boulder. It's going to an amazing night! We'd love to have you join us!
We are going to Texas from August 29-September 10th to help out Selah Hills Church to start a coffee shop out of their church the first week. The second week we are helping a ministry in Dallas, Noah's Ministry, that serves special needs children. We will be holding a meeting with more information and for those that would like to join us on June 13th!