Whether it's your first time here or 10th time, we would love to get to know you more. Take the first step and fill out a connect card online!
We are always in need of more servants here at Reach Church with so many opportunities and options to serve. Take a look at the link below to let us know where you are able to help out.
WOMEN'S STUDY
The women are gathering every Monday night at the church to study the book of James. If you are interested in getting plugged in please let us know.
YOUNG ADULTS
Our Young Adult group is the perfect place to find like-minded, fun, and caring people. We meet on Tuesday's from 5pm-9pm at Reach Church for food, Bible study, and worship!
YTH
Open to students in middle and high school, our youth group offers a place to make friends, learn, and have fun, all while growing in their relationship with God. We meet on Wednesday nights from 6:00pm-8:00pm at the church. Dinner provided at 6pm.
------
WORSHIP & WORK WEDNESDAY
Every Wednesday we invite whoever is available to come and worship and pray with us from 9am-10am. Then we follow up that time as we clean up the church and get it ready for Sunday service.
JESUS BURGERS - Broomfield High School
You are also welcome to join us at the church every Wednesday at 12pm as we hand out a free lunch to the BSH students and connect with them to tell them about Jesus.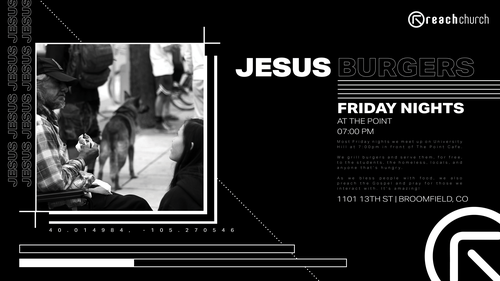 MEN'S STUDY
Join us on Friday at 6:30am for the men's bible study through the book of James. We gather for an hour to talk about the word, fellowship, and pray for each other.
Panera Bread
10450 Town Center Drive
Westminster, CO 80021
Youth Winter Camp
The youth group will be going to YMCA at Snow Mountain Ranch for our winter retreat along with Calvary South Denver. This camp is open to both middle and high school students. The biblical focus of the camp will be "Foundations" and cover equipping your kids with tools for worship, Bible study, prayer, and testimony. Camp is Feb 4-5 2022