Whether it's your first time here or 10th time, we would love to get to know you more. Take the first step and fill out a connect card online!
We are always in need of more servants here at Reach Church with so many opportunities and options to serve. Take a look at the link below to let us know where you are able to help out.
YTH
Open to students in middle and high school, our youth group offers a place to make friends, learn, and have fun, all while growing in their relationship with God. We meet on Monday nights from 6:30pm-8:00pm at the church!
YOUNG ADULTS
Our Young Adult group is the perfect place to find like-minded, fun, and caring people. We meet on Tuesday's from 5pm-9pm at Reach Church for food, Bible study, and worship!
FINANCIAL PEACE UNIVERSITY
We are so excited to gather on Wednesdays for a potluck and group discussion through Financial Peace University. This is such a great curriculum to better steward our finances for God's glory. It will also be a great way to connect with others from the fellowship. Join us at Reach at 6pm for potluck & 7pm for the group.
WORSHIP & WORK WEDNESDAY
Every Wednesday we invite whoever is available to come and worship and pray with us from 9am-10am. Then we follow up that time as we clean up the church and get it ready for Sunday service.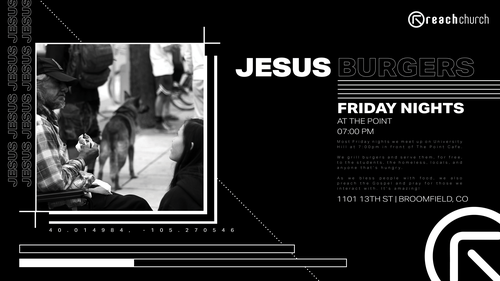 JESUS BURGERS
Join us on Friday at 7pm as we gather on the hill in Boulder at our coffee shop, The Point Cafe, to grill, serve burgers, and pray over the homeless community, locals, and students in the name of Jesus!
JESUS BURGERS - Broomfield High School
You are also welcome to join us at the church every Wednesday at 12pm as we hand out a free lunch to the BSH students and connect with them to tell them about Jesus.
We had an amazing day with so many getting baptized on Sep 5th.
The audio is a little off, but the testimonies are wonderful.
FINANCIAL PEACE UNIVERSITY
Starting on September 8th, we are going through Dave Ramsey's Financial Peace University on Wednesday nights at 7pm. FPU is a nine-week course that teaches you how to save for emergencies, pay off debt fast, spend wisely, and invest for your future. It is founded on biblical money principles and comes with many different resources to help you take control of your finances.

The cost for the entire course is $25 per household instead of the normal $129. This includes access to on-demand training videos through Ramsey+ for one year, the workbook for the course, two custom apps to help with budgeting & saving, and an hour session with a FPU consultant to help you get on the right track.

We are offering free childcare for single parents only!

We will be having a potluck before the class at 6pm. Bring your best dish!
We are going to have our first Team Night on Sunday, September 12th at 5pm. We will meet at The Point Cafe for about an hour of fellowship with those who serve here at Reach. Pastor Kevin will be sharing the vision for this next school year for our church.

REACH CHURCH YOUR HOME - YOU NEED TO BE THERE

The Point Cafe
1101 13th St, Boulder, CO 80302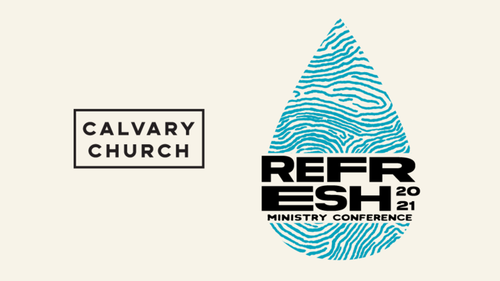 BEHOLD HE COMES CONFERENCE
SEPTEMBER 11
Calvary Chapel Chino Hills is hosting the "Behold He Comes" West Coast Bible Prophecy conference.
We want to invite you to join the conference through our exclusive Livestream at Reach on Saturday, September 11th.
The cost is free for the day.
EXPOSITORS COLLECTIVE
CONFERENCE
SEPTEMBER 17 & 18
If you are between the age of 18-40 you are invited to a conference that will teach you how to study, write, and communicate a sermon. The conference is September 17th & 18th in Colorado Springs.
The cost is $39 for the weekend.
REFRESH MINISTRY
CONFERENCE
OCTOBER 1 & 2
Join us this fall as we go to Calvary Aurora for a ministry conference on October 1st & 2nd. If you serve at Reach or want to spend a weekend getting filled up through Bible teaching, worship, and fellowship - please come with us.
The cost is $40 for the weekend.